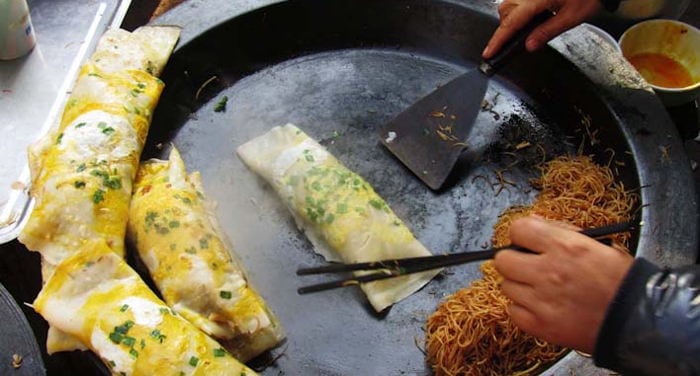 August 8, seven in the morning.
The climate in Fushun is surreal: the heat is already crazy, the humidity through the roof. The sky is a patina halfway between gray and yellow; dust is everywhere. We're ready for our day out. Destination: Benxi Shuidong, the most famous water caves of all Dongbei. One travels the Chinese way, with Chinese hours, Chinese travel companies, Chinese smells. And – naturally – Chinese harassment.
Waking up at dawn, I chugged a bag of milk (yes, here they're sold in bags) and right away smoke a cigarette – Chinese as well. That most precious type of tobacco (to them), extremely heavy and smelly, is offered every three for two. The objective is quite clear in my mind: to shake the Calcutta inside my intestine to get me out of the house, and not in a Turkish-Chinese public. The objective soon achieved: twelve minutes on the can at home, half a kilo of jiaozi expelled and three flushes to get the toilet water clean.
Digression: I always wondered what the purpose of tap water is – in Fushun – it stinks like a horse. Even now I don't have an answer.
I get ready, take my trusty Ray-Bans that hold the record for longevity (twelve years and I still haven't lost them) and wait for Lin to finish getting ready in the mirror. We go down five floors (elevators are an unknown object here) and we find ourselves waiting for Xiao Ai (yes, he's called Little Love), Lin's nephew and our travel companion.
First stop on the obstacle course: leave the Eden of the condominium to enter the real Mandarin inferno, wave our hands to stop the first three-wheeled motor taxi (you can save, obviously) and head toward "east" station. The Chinese love cardinal points.
While Lin and Little Love wave to stop the taxi, I have to hide. Because when those slick taxi drivers see a laowai they immediately raise their rates. But we're slicker than them. So: first you agree on a rate and then the laowai can come out into the open and get into the passenger compartment, to the great disappointment of the driver. It's hard being a laowai husband: every time we have to negotiate a price I have to hide.
I climb into the taxi and lower myself in silence as always. I sit in the back and – irreparably – after a few minutes, I begin to be glanced at by the taxi driver in the mirror. He watches me and laughs. I always wonder what the fuck the taxi drivers of Fushun have to laugh about. Especially when they laugh at me. Above all I wonder why they look at me and not the road.
After a minute of embarrassment the usual questions begin:
"Where do you come from?"
"Yidali"
"Ahhhhh, you like China?"
"Yes"
"Ahhhh, is Yidali beautiful?"
"Yes"
"Ahhhh"
Fortunately we arrive at our destination, East station. Where with two coins – sadly – Xiao Ai buys a wrap.
Cursed wraps. We look for the bus and push to get on. Because the Chinese are world champions of elbowing in the stomach, back and legs. Even though the seats are numbered. If they don't poke or push, they're not happy. I enter into a zen state, with only one precaution: stiff elbows held a bit to the back. With the vain hope that the Chinese will push me, I give in. But there's no point.
We get seated and wait for departure, though we have a good fifteen minutes to go. Little Love tells us that he's getting down to buy us breakfast. I – politely – refuse. But there's nothing I can do. He comes back ten minutes later with three egg-grass-onion – and who knows what else – wraps, Very smelly.
I still refuse. They insist. The whole bus looks at me. In addition I'm the only laowai and they probably want to see how a foreign devil chews. The requests are insistent. I try to make them happy: a little bite, I swallow and then fall back on the classic excuse that my stomach isn't well.
From East station to the water caverns there's at least an hour's ride. The lady from the agency, with a microphone at earsplitting volume shouts for the duration of the trip. In the meantime fifty-five chewing Chinese eat everything: chicken legs, eggs, honey, pickles, bratwurst. A torment of sounds and smells.
Finally we arrive. Another line, another elbow championship, a few selfies with Chinese who are seeing a foreigner for the first time and down into the caves. This show of light and water will last for far too little.
The hell is there waiting for us.
[Photo Credits (Creative Commons License): www.flickr.com/photos/m_peterlin/]