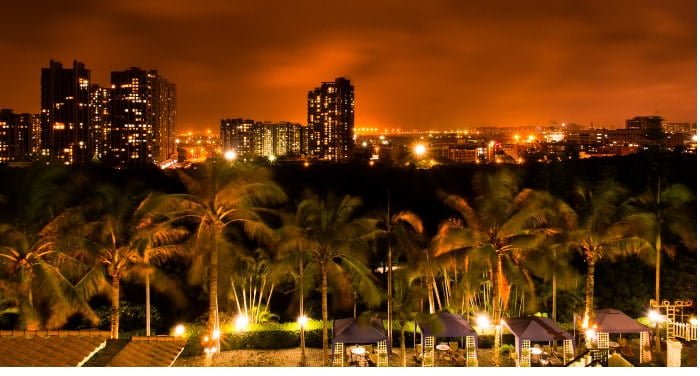 In today's interview I'll discuss with Ted Rule, one of the authors of "Shenzhen: The Book", a comprehensive guide for traveling and living in Shenzhen.
I read the book last week and I must say that Ted and Karen, who first arrived in Shenzhen in 1971, did a great job on both describing what you can do and see in Shenzhen and conveying the atmosphere of this metropolis that, only 40 years ago, was just a village.
Ted, first of all, thank you for accepting this interview. Your book starts with a couple of Chinese sayings. The one I liked the most is this: "If you love him, send him to Shenzhen. Heaven's there. If you hate him, send him to Shenzhen. Hell's there," which remember me the saying "Sir, when a man is tired of London, he is tired of life; for there is in London all that life can afford" of Samuel Johnson. What is, in your opinion, that makes Shenzhen so different from the other Chinese cities?
In some ways Shenzhen is very different to other Chinese cities but it shares many of the characteristics that are changing every Chinese city. The main difference – essentially Shenzhen was built from scratch. Before 1979 there was nothing here. That's true of most Chinese cities in a sense. Look at Beijing and Shanghai. Most of what you see there was built in the past 20 years. The difference is that in Shenzhen there's no equivalent of the Bund or of the hutong. The "indigenous" population is tiny and its traditions are barely known. Everybody in Shenzhen is a recent immigrant and that colors everything that happens here. There's nobody to tell you that "we tried that and it didn't work".
You arrived in Shenzhen in 1971. How it was to travel around China back in 70's?
OMG travel in the 70's. It wasn't easy. Flights were rare and had an excitement of its own. The only international routes were to Pakistan, Japan, Russia and Burma. There was no direct travel to Hong Kong. To go from Hong Kong to Beijing you took the KCR to Lowu, walked across the bridge to Shenzhen, had lunch in a room specially for foreigners, caught the next train to Guangzhou. There you either took the train (two days and one night) or caught the one flight per day to Beijing (CAAC Boeing 707).
If you were lucky it landed in Beijing. Often the doors opened and you were in Shanghai. For always undisclosed reasons. There was no private travel. You had to be accompanied. To leave a city you had to get permission from the police. Beijing had signs at the ten mile markers saying in Chinese, Russian and English that foreigners were not permitted beyond this point.
Accommodation? If you were lucky it was basic. If not…. And I believe that there was not a single bar in the whole of China.
Why did you end up in China and how long have you've been living there?
I was a diplomat by profession in those days. I spoke Chinese; not many westerners did in those days, so I was posted, first to Taipei, then to Hong Kong, then to Beijing. I left the service in 1980 and after many vicissitudes became an investment banker based in Hong Kong but with a brief that covered all of China. That meant a lot of work in Shenzhen because that was where the financial markets were in the process of being founded. I loved the excitement of the place and about nine years ago decided to live there. All in all, between Taipei, Beijing, Hong Kong and Shenzhen, I've lived for over 25 years in China.
Even if it's located in Guangdong Province, where the local language is Cantonese, in Shenzhen almost everybody speaks Mandarin. Could you explain the reasons of this "anomaly"?
Actually it's not strictly true to say that all of Guangdong speaks Cantonese More than half of the province speaks Hakka and along the coast most people speak a variant of southern Fujian dialect. Even the Cantonese language has several dialects, several of which aren't very comprehensible to a speaker in Hong Kong or Guangzhou. There are two dialects of Cantonese spoken in Shenzhen alone. The Mandarin is another matter. The fact is that everybody in Shenzhen comes from somewhere else so they speak the common language of China, Mandarin.
At some point in your book you claim that in Shenzhen there are no many foreigners. Do you think that Beijing or Shanghai are more "foreigner friendly "than Shenzhen? If yes, in what way?
It's not strictly true to say that there aren't many foreigners in Shenzhen. There are hundreds of thousands but most of them are Koreans who end to fade into the background. No, there haven't been many Europeans I don't think that foreigner friendliness has a lot to do with it. The main reasons are that a) most businesses in Shenzhen are Chinese owned and b) there is widespread ignorance in Europe and America about the excellent business environment in Shenzhen. My sense is that recently the foreign population of Shenzhen has expanded significantly. A lot of this is due to the fact that Shenzhen is now probably the electronics capital of the world. With giants like Huawei, ZTE and Foxconn based in Shenzhen, it's now difficult to ignore it.
We all had some awkward situations in China. Can you describe one of yours?
Haha. It would be difficult to pick any one from the hundreds of misunderstandings or downright bad mistakes that we've been involved in over time. A lot of them involve being loudly discussed by people who think we don't understand what they're saying.
Why did you decide to write a book about Shenzhen? How long did it take?
We decided to write it because there simply was nothing and there was so much to say. Five miles to the south is Hong Kong with millions of words written about it, here, in one of the most exciting happening places in the world, nothing except a half page in Lonely Planet telling you not to go there. Didn't seem right. You could say that the gathering of information took a lifetime because we drew on decades of personal experience. Practically? Well, unusually for a travel book, we actually visited every place we wrote about. That took a couple of years I guess. Then the writing. Once we started it was like Noah's flood, forty days and forty nights.
In your book you talk a lot about the history of Shenzhen and, more in general, China. You probably agree with me that, if Shenzhen nowadays is a metropolis, is because of Deng Xiao Ping's willing. How do people see Deng Xiao Ping in Shenzhen?
You ask taxi drivers what they think about Mao and they universally dismiss him. You ask them about Deng and they are capable of flights of lyricism about him. He is genuinely respected and even loved. If you go to his statue on Lianhua Shan, you will see people every day of the week laying wreaths and even worshipping him as a god. The people doing the "baibai" aren't peasants. They're the professional classes.
Could you explain to our readers what Huaqiang Bei Road is?
Huaqiang Bei Road is the retail Mecca of Shenzhen. You can buy anything you like, but, in keeping with the main landlord being Shenzhen Electronics Group, electronics predominate. There are multiple electronics markets selling everything from flashing green and red components through computers to one market which specialises in stealth equipment. And it's LOUD! There must be more mobile phone retail establishments than anywhere else on earth, each trying to outdo its neighbor in the loudness of its music and spruiking.
What is your favorite beach in Shenzhen and why?
Favorite beach? Depends on the time of year. Dameisha has a lot going for it in winter. It's a beautiful beach surrounded by mountains and looking across rocky islands to the mountains of Hong Kong's New Territories. But in summer… need we say more than that there are warnings broadcast when there are more than 50,000 people on the beach. For summer we go deep into the Dapeng Peninsula where there are multiple beautiful sandy beaches. Please don't tell anybody that Xichong Beach is one of the most beautiful in the world.
Beside Shenzhen, what is your favorite place in China?
I love Qingdao. I don't get to visit it nearly often enough.
A classical question here at SDC: What is your favorite Chinese food?
I'm not a particular fan of Cantonese food but I love Cantonese winter cuisine which is quite different from summer cuisine. My favorite winter dishes? The one called in Cantonese se gang, a thick soup of snake with chrysanthemum petals and crispy corn chips floating on top. I love boujai faan too, rice cooked with various savory substances cooked on top as the water starts to evaporate, Cantonese sausage, pressed duck, suckling pig. When it's cooked, the meat is removed and the rice is mixed in with soy sauce and all is served together in the earthenware bowl in which it's cooked.
Ted, thank you for your time and see you in Shenzhen!
Click here to order Shenzhen: The Book on Amazon.com
[Photo Credits (Creative Commons License): www.flickr.com/photos/jonathan-leung/]