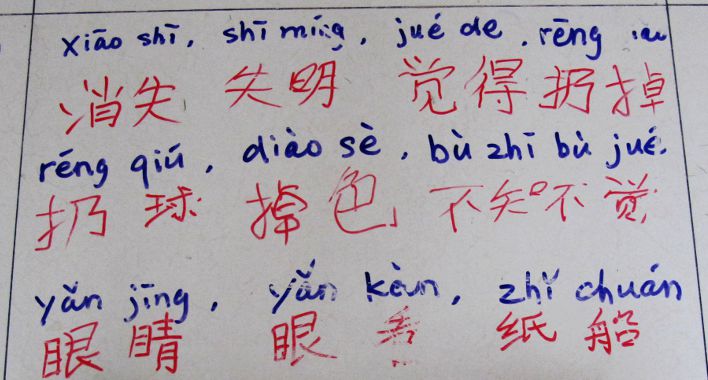 Click here to discover what Chinese courses
that we recommend at the moment!
About Chinese teachers
During the few months I studied Chinese in a school, I got mostly "bad" teachers. They were not bad people, they just failed to get my attention so that I was spending my hours wondering why the hell I was torturing myself with Mandarin…
However there was a teacher, Li Laoshi, that was different.
Maybe because she was the only one – to be fair I also had another teacher good with that – able to explain to this stupid laowai how Chinese phrasal structure works (I don't wanna use the word "grammar" as, I'm sure, someone will try to convince me Mandarin has no grammar).
Or maybe it was because of the sentences she gave us to translate. Instead of the overused "How is the whether today?" or "How many people there are in your family?," questions that by the way I would never ask to anybody in a real conversation, Li Laoshi always proposed to us interesting dialogues…
I still recall when Egor – one of my classmates – asked for an example on how to use the particle 被 (bèi), which is needed to create the passive form. She could have used a standard sentence as "The book is read by the student".
Instead, she chose:
"The dog was shot to death."
I was fascinated. It always seemed to be in a book of James Ellroy or a movie of Quentin Tarantino.
What a shame she left after a week (for some obscure reasons our teachers were always rotating).
How western devils pronounce pinyin and why we are often wrong
Another aspect I liked about Li Laoshi was her way to explain everything through storytelling. Today I want to tell you one of her stories.
There is this American guy, let's call him Frank, that speaks very good Chinese. His grammar is correct, (I know I know Chinese has no grammar but anyway…), he gets the tones right, he actually understands when a zhongguo ren talks to him and so on… let's say he's fluent in Mandarin.
Yet, there are some Chinese people, mostly the ones that seldom talk with a laowai, that still don't get what he says (I know this situation very well has nobody seems to understand me but anyway…).
When Frank asked for Li Laoshi's opinion, she answered:
"It's because you focus too much on consonants. You see, the pinyin corresponding to each character is composed by two parts: the initial (a consonant sometimes followed by an "h") and the final part (one or more vowels sometimes followed by "n" or "ng")."
"Western people, even the ones that get the tones right, tend to emphasize consonants because this is how your language works. However Chinese people emphasize vowels, the consonants only indicate the starting point of the tongue."
"Hence, when you talk with a Chinese person that is not used to discuss with foreigners, he will often not get what you mean because, even if your Chinese is technically correct, your are putting the emphasis on the wrong place."
Before to post this article I contacted my teacher and asked her if she agrees with my interpretation of her explanation (we had this discussion in 2010 so I wanted to be sure I didn't dream all this story). Here her answer:
"Yes, you remember quite well. Another example you can add concern a German student of mine: when he was trying to tell in Chinese which country he came from he would say: "Deguo", with all the emphasis on the "D" so that no Chinese people could understand him. Often telling students they should focus on vowels helps them on understanding how to pronounce pinyin."
Now, if you speak a foreign language, let's say French or Spanish, but you never tried with Chinese, you will think both me and my teacher are crazy. However, if you are fighting with Mandarin chance there are you understand what I'm talking about ; )
Finally, I asked to Li Laoshi if she was still teaching Chinese and how students could reach her. She answered to me she's moving to Europe soon and the school she founded will merge with Shanghai Monkey King Chinese school.
Learn Chinese: My lazy way (Month three)
There we go, if you are new to this blog and you want to know how I'm trying to learn Chinese, check this post.
If you already know what I'm talking about, well, I don't think this month was my most glorious, with respect to Chinese learning…
I did my Anki's cards every day but from one side I was not able to complete the third deck (I only studied 800 cards within 1491…) because I stumbled upon too many obscure characters (to me at least) that forced me to slow down in order to keep my study within one hour per day (and I'm not going to study more as I know that in the long term this would become difficult to handle leading to a loss of motivation for Chinese learning).
Also, I was not able to advance too much on my Chinese course this month because I used to study at night but I don't have Internet at home anymore (yeah… welcome to China). I could have downloaded the material and so on but I'm simply too lazy for that. I plan to catch up with the course this month and, since I'm going to finish it soon, I need to find a new one.
I did keep listening 100% of Chinese music on my iPod – mostly 二手玫瑰 (Ershou Meigui or, in English, Second Hand Roses), thank you Fulan for the tip – and watching one Chinese movie per week, which is pretty good.
Podcasts and attention span
I would like to try out some podcasts – probably Chinesepod as I really like how John Pasden explains Chinese on his blog, Sinosplice – so that I can actually study on my way to work or wherever I'm going (the course I'm doing now it's built in a more traditional so it's difficult to check it while I'm walking).
Another reason I want to introduce podcasts into my routine is that I feel my motivation is dangerously slipping away (keep in mind my attention span is about five seconds so this shouldn't surprise you at all).
Since it's difficult to evaluate my progresses (nope, I cannot understand a movie yet, both dialogues and Chinese subtitles are still too fast for me…), I decided to repeat Chineselevel's test every month: this month I scored 70% (last month I only did 58% so that this tremendous improvement makes me wonder whether the fact I repeated the same test biased the results or not, even if last time I didn't do any effort to remember the words I didn't know).
Click here to discover what Chinese courses
that we recommend at the moment!
[Photo Credits (Creative Commons License): www.flickr.com/photos/ivanwalsh/]