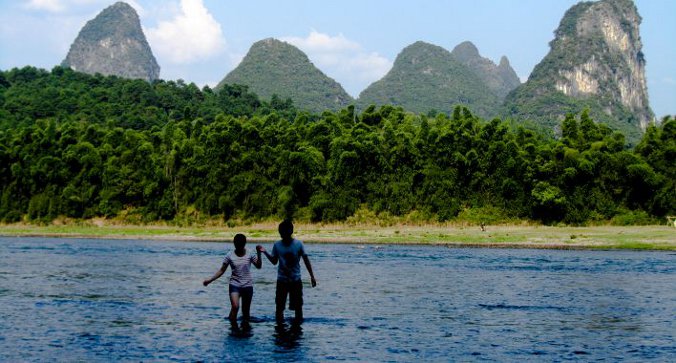 Wanna know a funny thing?
Everybody talks about Guilin and the Guilin cruise. However if you want to get lost within the world famous hills of Guangxi Province you better stay in Yangshuo, the arrival point of the Li River cruise.
And this is exactly what I did. I arrived to the train station of Guilin from Chengdu, took the cruise and ended up in Yangshuo, where I spent two nights.
You'll always find somebody that will tell you "Oh, Yangshuo is soooo touristic, I've been then twenty five years ago and it was much better."
Yeah.
I always reply the same thing to those fuckards: "Yeah, Berlin was different too, you know? There was a big wall and soldiers in every corner."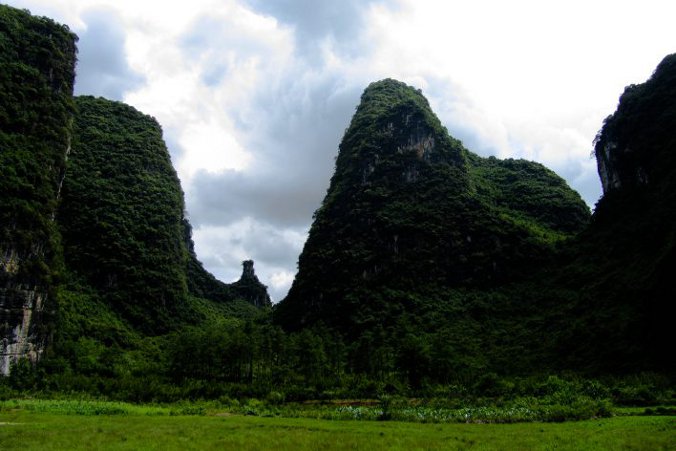 Yup, things change. And yes, I'm sure Yangshuo was better before climbers and backpackers discovered it and transformed this small village in one of the most touristic destinations of West China. But hey, I live in the present, and Yangshuo is still beautiful. Just get a bike and get lost among the hills.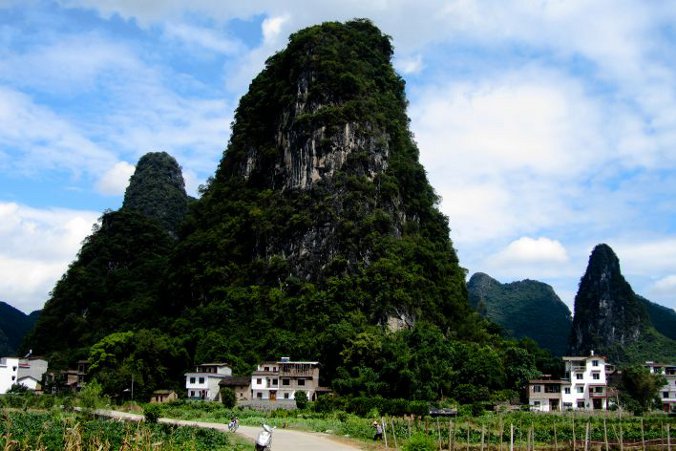 Where I stayed in Yangshuo?
I was staying at West Lily Hostel that, to be fair, I consider more a hotel than a hostel because it's a quiet place and you won't find any backpackers trying to play a guitar they don't know how to play or getting totally wasted with cheap beer. This has its pros and cons, but I must say the atmosphere was perfect for my state of mind.
I often choose to stay in a hostel when I travel alone 'cause it's easy to meet other travelers. But I didn't want to meet anyone in Yangshuo, I didn't even wanted to talk with anybody. I just wanted to rent a bike and go.
Anyway, whatever it is your state of mind, here you'll find a wide selection of hotels and hostels in Yangshuo.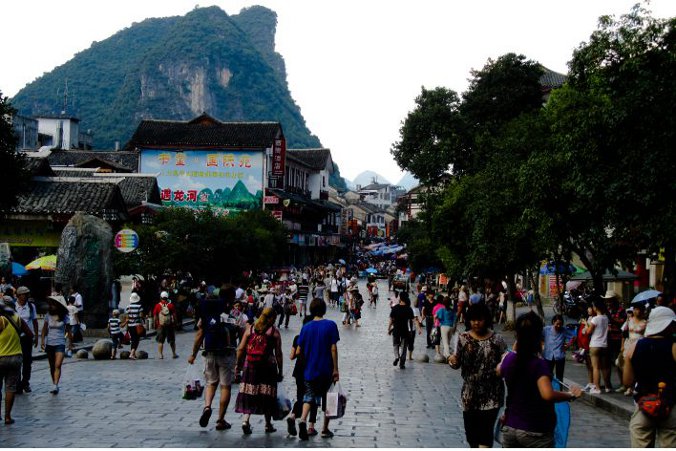 Should I get a guide?
It was already 5 p.m. when I left my few things at the hotel and took a walk on the downtown, that is the street you see on the photo above. Yangshuo isn't a quiet village anymore. Also, since mass tourism arrived here, the local people organized themselves with the only goal of squeezing as much money as they can from tourists.
If you're a regular reader of this website by now you'll have noticed that I hate descriptions. So I'm going to cut it short. What I can say is that in Yangshuo you won't have any problem on finding a pink Hello Kitty, a tofu pizza or a t-shirt with "cao ni ma" (it means "fuck your mother" in Mandarin) printed on the back. Nice.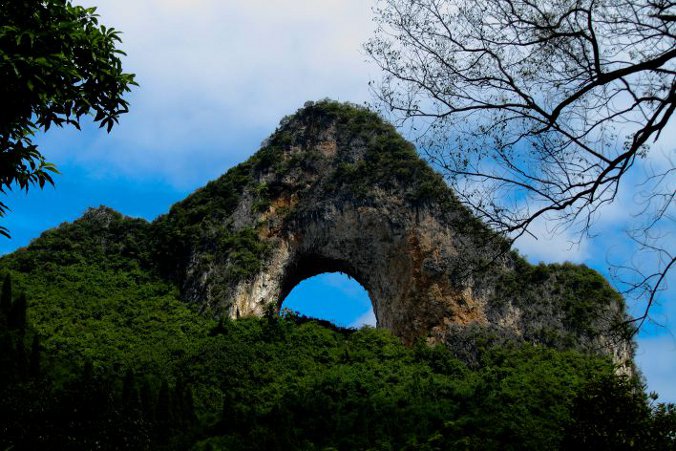 Another interesting thing is that you'll find a lot of people, mostly young girls, that will offer to become your personal guide around the hills for a day. The price? About 100 yuan. Their skills? I dunno. However they all have a notebook full of recommendations in any language you can possibly think. Are these reviews true? I think so. I read several of them in Italian and Spanish and they seemed legit.
Did I book a guide in order to explore the surroundings by bike the day after? Nope. Was this a mistake? Maybe!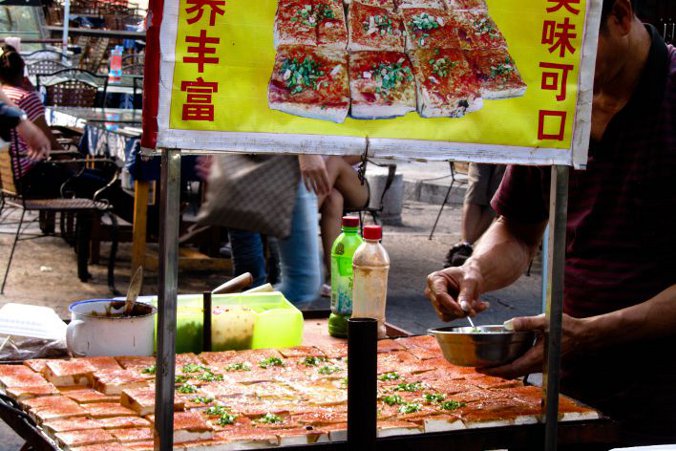 Exploring Yangshuo by bike
The day after I rented a bike at my hotel and headed towards the hills that surround Yangshuo. I didn't have a map because I thought that I could just follow the paths and/or the other bikers and their respective guides.
The sad thing is that, as usual, I overestimated my GPS abilities and got lost within ten minutes. Thus I don't have much data to suggest you where to go: if you were looking for a step by step guide on "what do in Yangshuo" you may very well come back to Google.com and keep looking till you find something more coherent than this nonsense guide. I can just say that it was beautiful.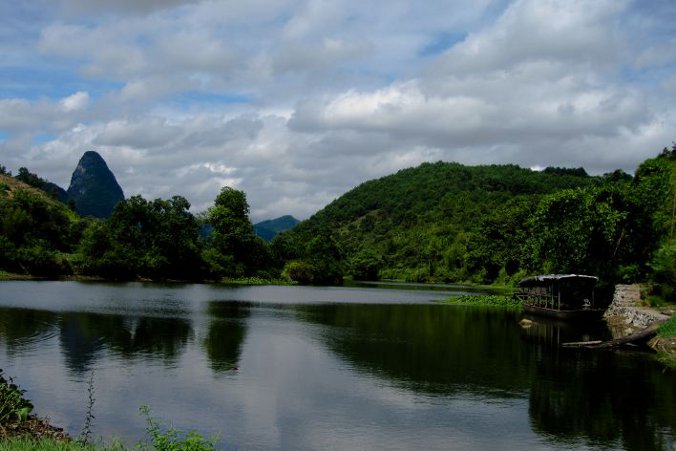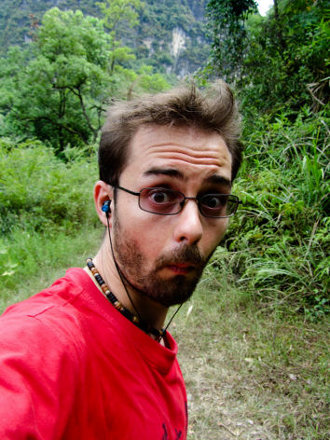 I kept biking for about four hours, and at some point I was so lost that there wasn't even a path to follow anymore. This is when I stopped and took the pic on the right. For the matters, I was listening to "Punk in Drublic" by NO-FX when I took the pic.
Luckily, when I was starting to fear that I was going to die of starvation or because of the growing pain in my ass (it had been five years I didn't bike for more than five minutes in a row) I met an old man with a cart and a dog. I ask if he was going back to the town.
He answered to me in a dialect I don't understand (it was probably Cantonese) but I decided to follow him anyway and, after awhile, I ended up in a path where there were other bikers. And they had a 100-yuan-guide with them. So I just followed them (no, I didn't tip their guide nor thanked them for saving my life afterwords).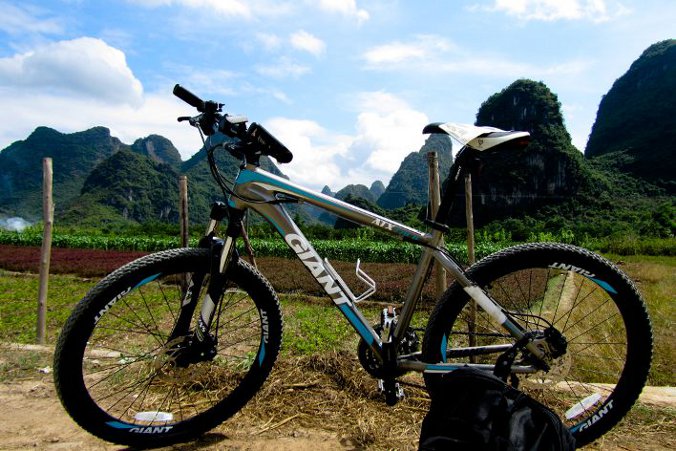 I came back to my hotel, I returned my bike, took a shower and went to eat a pizza.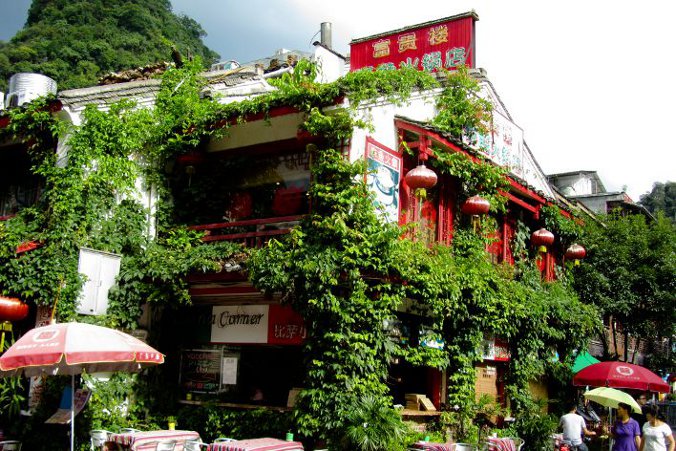 The day after I went back to Guilin by bus (it takes around 45 minutes), walked till the train station and took the night train for Shanghai. The 29 hours train ride wasn't too pleasant because I was only able to get an hard seat ticket but this is another story.
If you want to read more unpractical travel guides of South West China you can start from this article.
Have you ever got lost in China? Share your experience on the comments section below!