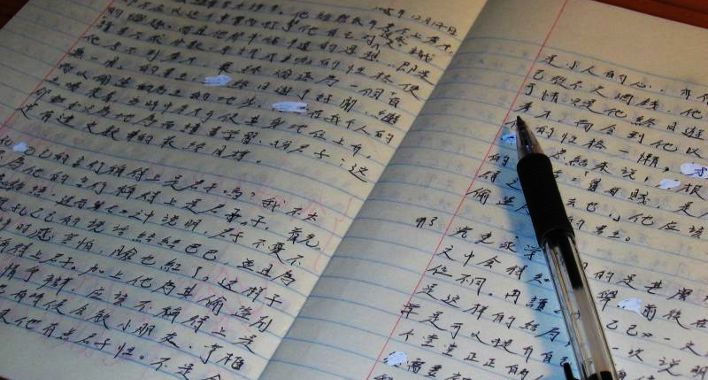 Click here to discover what Chinese courses
that we recommend at the moment!
Which Chinese course should you choose?
There are many Chinese courses out there. For the records, I started with Rocket Chinese and I'm currently using Chinesepod.
I prefer to spend some $$$ in language courses so that I feel guilty when I don't study but nowadays you can find everything you need to learn a language for free. I enumerated the best free resources in this article: Learn Chinese online: 27 excellent free resources.
Let's suppose I got this bunch of Chinese courses. How the hell I'm going to use them?
Should I just open the first one, read and repeat nonsense sentences as C-3PO would do and hope that somehow the information will stick on my mind? Or should I stop a minute and try to see if I can do something a bit more clever?
Managing boredom and an harsh truth about Mandarin
"Whenever you find yourself on the side of the majority, it is time to reform," Mark Twain.
Everybody who attempted to learn Chinese knows that the difficult part is not the learning process. Nope, the problem is the review.
Mandarin has the simplest grammar I've ever seen (and I've explored the grammar of quite a few languages) and has much less phonemes than any Western language.
In spite of these facts, you will tend to forget every single word you learn in the same time you can drink a Tequila shot at your favorite Mexican Pub.
This is an experimental fact. Our memory absorbs new information by linking it to something we have encountered in the past. And unfortunately Mandarin happens to be a bit different from anything we saw before we landed to China (unless we are Korean, Japanese or Thai).
Here a random sentence I just pulled from my Chinese course:
"I'm buying a bottle of perfume to give you."
In Chinese it sounds like that:
"wo xian mai ipin xianshuei son geini."
There is not a single clue you can use to remember it.
I don't care if you hold a cheap Italian Public University degree or you are an Harvard graduated. At school they teach you what to study, not how to study. And usually also "what" doesn't make any sense.
The tools you need to get the best of your Chinese course
"I never let schooling interfere with my education," Mark Twain
No matter the Chinese course you chose, you only need three additional "tools" to learn Mandarin in a efficient way. And they are all free:
Motivation. Studying Mandarin may be so tedious and, unless you know how to maintain your motivation, it's easy to give up. How do you keep your motivation? So far the best ways I found are to track my result and making my study time as funny as I can. Boredom is our worst enemy.
A good deck of flashcard and a clever scheduling to review it. This can be done with a free software. I recommend Anki.
How do I connect all these tools and get the best from my Chinese course?
Here a step by step path you can follow.
1) Listen to your dialogues while you are doing something else
I used to listen to them while I was walking to my office in the morning, Now that I don't have an office anymore I listen to them while I'm on the train, the supermarket or while performing any other task that doesn't require my full attention. The point is that I would get as bored as hell if I would listen to the dialogues staring at the screen of my laptop.
You can listen to your dialogues while watching a Japanese porn movies if this helps you. Just find a way to avoid boredom at any costs.
Beside your Chinese courses/podcast/Youtube videos, I recommend you to watch Chinese movies. I try to stick to one per week but if you are a student you probably have more time than me. Here a list of Chinese movies you may like.
Listening practice is necessary because if you cannot understand what people are telling you then you are never going to progress that much. However you cannot hope to master new vocabulary by only passive listening.
Besides your listening time, if you want to learn Mandarin in a decent amount of years you have to commit to a minimum of active daily studying time. Mandarin is not Spanish, you cannot learn it by osmosis.
This is, in my opinion, the phase in which many brave students get stuck. They open their book and start to read and "review" it without a precise strategy, often starting from the beginning of their book every single day.
They may even build a deck of flashcards, but they don't know in which order they should study them. So they try to review all the cards every day. This may work the first two months, but as the flashcards sum up it brings to failure. Only the most motivated (and crazy) students will survive to this blind review.
But what about the rest of us? The majority will surrender after a couple of months. Be aware I'm not talking theory. I've been there, I saw how it works and back in 2010 I failed with Chinese language as the ninety percent of my classmates.
Here what I suggest to do instead of studying in a random way.
2) Build our deck of flashcards
We need a personalized deck of flashcards for three reasons:
Preparing our flashcards, that is writing the sentences we would like to remember, is the best way to review. I'm not going to bore you with the neurological details but this is the way our brain is wired.
Flashcards allow us to store only the information we would like to retain. We are going to learn in selective way.
We can review flashcards with a clever scheduling (SRS) that will dramatically reduce our review time. You find everything you need to know to get started with SRS in this post: Anki flashcards: a shortcut for learning Chinese.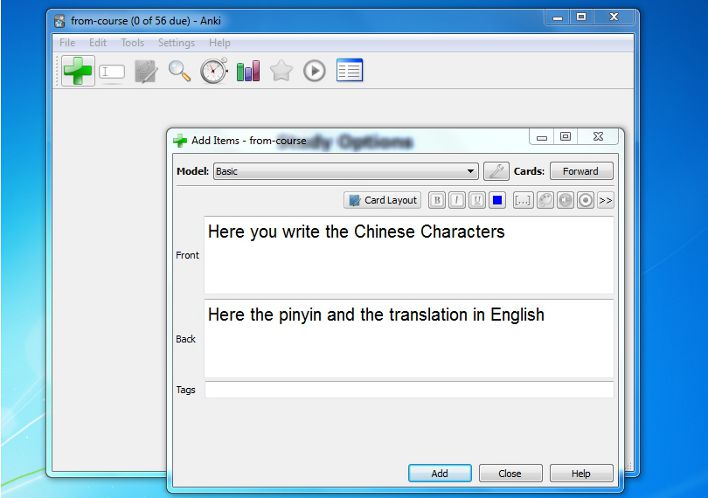 Anki interface while we add a new flashcard.
The first day we need to spend about half an hour to download Anki (you can find it here for free), create a new deck of flashcards and learn how to add a new card. This is extremely intuitive as it suffices to click on the green "plus" (see main menu of the figure above). A new flashcard will appear and we will be able to add the question (i.e. the Chinese characters corresponding to the sentence we want to learn) on the front of the card and the answer (i.e. the pinyin and the English translation) on the back.
Once we are ready we can go through the transcription of the dialogues we listened today, find the sentences we would like to remember and create an Anki flashcard for each of them.
It's important to understand that we should avoid the temptation to consider every sentence in our course as "important. The idea is to only retain the sentences that either have a grammar structure or a word we are planning to use soon.
Remember that the ultimate goal of this method is to create an interesting and funny deck of flashcards. This is the only way to overcome the main obstacle that is preventing people from learn Mandarin, that is boredom.
The only exceptions are the students that are pursuing a degree in Mandarin as they have to pass an exam. If you are one of them I suggest you to mix the "boring" stuff you are forced to learn with sentences that you are interesting for you.
If you don't get why we always build a flashcard that contain a whole sentence instead of a single character, make you a favor and read The advantage of memorizing Chinese characters in a context.
3) Expand our world
Let's say we are reading our Chinese textbook and find a word we would like to learn in a sentence that sucks. Should we add the sentence to our deck of flashcards?
I don't think so. I would digit the word on the search bar of Nciku.com – a Chinese-English dictionary that provide several sentences containing the word I'm looking for – and choose a sentence I find useful.
Now I would transform this new sentence in a flashcard.
Another way to build interesting flashcards is to pay attention to our every day needs (this only works for people that live in China). I will explain it with an example.
When I order a green salad in China I often receive it covered by a nasty sweet sauce that destroy the flavor of my salad. I used to struggle with it because the waiter never understood my primitive explanation.
Then one day I was in a Japanese restaurant with Fulan, an Italian friend that speaks quite good Chinese, and I asked her how the hell to say:
"I don't wanna any sauce on my salad."
She explain to me that I could say:
"把酱分开放吧,"
which can be translate as "Please put the sauce in a separate plate."
As the structure is quite difficult I knew I was not able to remember it. Instead of giving up I saved it on my phone's memos and, once I was at home, I created a flashcard with that and I added it to my Anki deck.
As a result I didn't forget the sentence and nowadays I can successfully order a salad without any nasty sauce. This is a significant improvement on the quality of my life.
4) Review our flashcards
If you regularly keep building your deck and stick to the daily review that Anki (or whatever SRS you are using) proposes to you, you will notice an impressive improvement on your Mandarin skills.
The review is the key part of the whole process so make sure to read Anki flashcards: a shortcut for learning Chinese if you feel it's unclear to you.
5) Time to speak up!
If we follow the process (I'm only one month 100% into this routine, before I was doing something slightly different) we will not struggle anymore with a bunch of useless sentences. Instead we will learn and memorize the sentences that we find interesting and that we are most luckily to need in our everyday life.
So we have no excuses anymore, it's time to go out and practice our Chinese speaking skills!
Click here to discover what Chinese courses
that we recommend at the moment!
[Photo Credits (Creative Commons License): www.flickr.com/photos/simon_shek/]