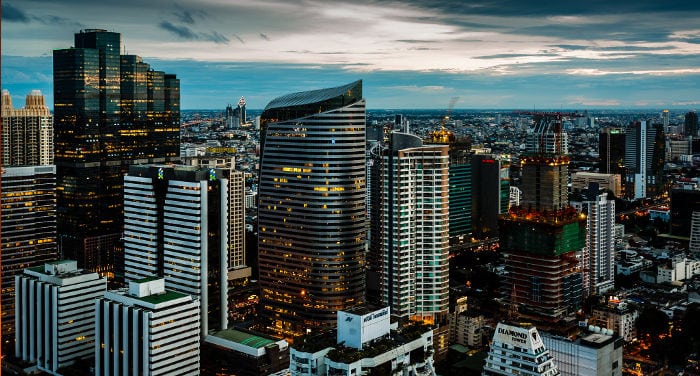 If you're thinking about moving to the Thai capital, even for a short time, this article will be very useful for you managing your money and creating a personal "living cost plan".
As you can imagine the main monthly expenses are similar to those in the West with a few small exceptions.
In this article we'll cover both the obligatory expenses that you can't avoid and the extra ones for everything you need to know when you step foot on Thai soil.
To these costs there's also the cost of a visa which will vary according to the type whether a student visa, work visa, retirement visa, or tourist visa.
Main monthly expenses
Your monthly budget will be divided between mandatory expenses and optional ones, The first category includes expenses such as:
Rent and various bills (water, electricity, internet, telephone);
Food;
Transportation;
Visa.
The second category is made up of various extras like:
Health insurance (it's not "obligatory" but highly recommended!);
Travel;
Clothes;
Restaurants, cinema and similar.
How much does rent cost in Bangkok
As explained in this article, the first thing to do upon arriving in Bangkok is to look for a place to stay.
The cost of an apartment will have the greatest impact on your available monthly budget; for this reason, and since leases in the Thai capital start at a minimum stay of 6 months, it is important to find a place that suits your needs (financially and otherwise).
The cost of real estate in Thailand, especially in Bangkok, have greatly increased in recent years, both for rentals and for buyers.
For a sparsely furnished studio (bed, small refrigerator and not much more), with one bath, in a condominium with a pool and gym, the figures start from 5,000 – 7,000 THB (about 150 – 200 USD a month).
If instead you're looking for something a little more comfortable, where you can also have a working kitchen, livable den and a separate bedroom, mid range condominiums come in at around 14,000 – 40,000 THB, or about 400 – 1.200 USD a month.
The last category would be the so called luxury apartments, or condominiums inhabited by expats with a higher income. Rents in this case start from 50,000 THB an can surpass 150,000 THB (for a 5 room apartment in the Asoke area, for example), covering a range of prices between 1,500 to 4,500 USD and more.
Obviously the prices just listed refer to properties in the city center, If you're willing to consider apartments that are located about an hour by bus from Bangkok (an example are the condos located in the nearby city of Pathumthani), then a two room apartment can even cost just 100 USD a month.
Note that in Thailand you'll need a deposit – or down payment – equal to two months rent; and advance payment for the first month's rent.
In addition, there are also auxiliary expenses to consider, such as:
Water: the cost is truly low and will run about 3 – 5 USD a month;
Electricity: you'll need to be careful with air conditioners. If you use them moderately, your monthly cost should be around 30 – 40 USD;
Internet: there are various companies that offer very convenient internet packages, such as True, with whom you can get a subscription for 20 USD a month, and a tech will come to your house to install everything you need.
City expenses
Depending on the area you go to, you'll find these types of supermarkets:
Macro: this chain supermarket just may be the best as for as quality and value are concerned. Note however that Macro sells many products in bulk; so shopping in one of its stores might be kind of tough for someone living alone;
Big C: these supermarkets can be found all over Bangkok and are usually enormous. Here you can find lots of Thai products and even a discreet selection of imported goods;
Tops: it has several stores, all in the mid to small-size range. You can also find some western products in this supermarket but the list is quite short;
Villamarket: for sure this is one of the most popular supermarkets within the expat community in Bangkok. This chain has several locations, mainly along the elevated train line that runs to the city center. Prices are in the mid to high range, especially for imported products. So if you really can't go without eating western food, this supermarket is definitely for you!
Shopping malls (Siam Paragon, Central World, Emporium, etc): each shopping mall in Bangkok contains a large supermarket, usually located on the first or last floor. Concerning the biggest shopping centers in the city, you'll be able to find imported goods along with souvenirs and local products, for medium to high prices.
Besides the traditional supermarkets that we're used to in the west, in Bangkok you can also find local markets where in the early morning many Thais go to buy vegetables, fruit, meat and fresh fish. Prices in these markets are obviously lower for local citizens; for foreigners they aren't always convenient since they double the price for (almost) everything sold in Thailand (including apartments!).
Naturally locally grown products costs less than imported goods which often have exorbitant prices due to the very high importation taxes imposed by the Thai government.
Here's a few examples of imported products:
500 grams of cherries: 50 USD;
6 mandarin oranges: 8 USD;
4 oranges: 6 USD;
Australian butter: 7 USD (Thai butter: 2 USD);
1 kg of De Cecco pasta : 2 USD;
250 gr of Italian mascarpone: 6 USD;
1 jar of Genoa Italian pesto: 5 USD;
1 baguette: 2 USD;
1 liter of Australian milk: 3 USD (1 liter of Thai milk: 1 USD);
1 liter of San Pellegrino: 2 USD (1 liter of a Thai brand water: 0.20 USD).
Regarding your monthly budget expenses, if you avoid too many imported goods it should be around 200 – 300 USD.
Cost of transportation
Monthly transportation expenses shouldn't weigh all that heavily on your budget, especially if you live in the city center and near a stop on the Sky Train, or subway.
Sky Train – BTS
Ticket costs for this elevated train that can get you around the city vary according to the length of your trip.
Prices (available on the official site of Thai transportation) start at a minimum of 15 THB (about 0.40 USD) to a maximum of 52 THB (about 1.60 USD).
You can also get a daily ticket for about 130 THB (about 3 USD), which will allow you to use the train for the entire day.
If you'll use the Sky Train a lot, then you can also get a ticket for more rides (the minimum is 15 rides, the maximum is 50). The more rides you buy, the lower the cost per ride goes.
Subway – MRT
The subway costs less than the Sky Train; and you can also buy tickets for more than one ride.
Buses and minivans
There are loads of buses and minivans that transport thousands of passengers a day around the capital. Speaking specifically about buses, there are at least two distinct types:
Red and blue buses without air conditioning: free;
Red buses without air conditioning: 6.50 THB, regardless of the length of your trip;
Blue buses with air conditioning: 9 THB;
Orange buses without air conditioning: 11 THB;
Yellow buses with air conditioning: this is the only type that charges you according to the length of your trip. The price is still low; between 11 and 24 THB.
From the centrally located "Victory Monument" circle, there are also minivans that head out toward nearby cities and the seaports that connect the mainland to the islands.
Prices depend on the distance to the destination but are still rather low; for example the Bangkok – Pattaya minibus, which takes about 2 hours, costs 90 THB.
Boat
Another form of transport used by the locals is by boat. This is a cheap and convenient option, especially in peak hours where traffic makes getting around the city center nearly impossible. Prices are equivalent to the buses.
Taxi, taxi scooter and tuk tuk
The so called "taxi – meter" (or metered taxis) in Thailand start at around 35 THB. In general, taxis are quite cheap. For example, a taxi ride from Asoke to Jatu Jak market (about 7 kilometers), costs about 3 USD.
Taxi scooters are more expensive (about 2 USD a kilometer). Let's not even talk about the tuk tuks, which can ask as much as 10-20 USD for a ride of a few kilometers, especially in the touristy areas.
Renewing your visa
The types of visas in Thailand are many, starting with a student visa up to a visa for retirees.
What all these types of visas have in common (aside from the tourist visa) are the two following factors:
Every 2- 3 months, depending on the type of visa you have (aside for a university student visa, which is renewed annually) you'll need to go to the immigration office and pay 1.900 THB to renew yours;
Every 3 months, for those who stay for 90 consecutive days on Thai soil, you'll need to go to the immigration office in the city in which you live to fill out the "90 days report". In this case there's nothing to pay.
Extra, including trips outside
Health insurance
Health insurance is not obligatory in Thailand. This does not mean however that health care is free to the public as is the case in many European countries. If something happens where you need to go to the doctor or one of the hospitals throughout Bangkok, you have two options:
Pay for the entire visit out of pocket; but keep in mind that if you have to have surgery or stay for days in a hospital the price can be very high. If though you need a doctor's visit or a vaccination, the cost should be around 60 – 100 USD.
Restaurants
The number of places where you can eat in Bangkok is infinite, on "Trip Advisor" alone there are more than 9.000 restaurants.
The biggest difference is surely among restaurants serving Thai cuisine, which also includes those along the capital's sidewalks, where a dish of pad thai (the Thai version of spaghetti … more or less!), will cost just 30 THB, depending on the ingredients.
For foreign restaurants the costs are greatly higher, especially when you consider that all (or almost all) apply a 7% tax and 10% tip on the final bill.
Here's a list of some prices:
Pizza: 8 – 15 USD;
Plate of pasta: 7 – 12 USD;
Portion of sushi and sashimi: 25 USD;
Cheese Fondue for two people: 20 USD;
Argentinian steak: 40 USD;
Paella for 2 people: 15 USD;
Fajitas: 10 USD.
Cinema
The largest shopping centers in Bangkok, including the luxurious Siam Paragon, besides supermarkets, beauty salons, shops, restaurants, banks, karaoke bars, and bowling alleys, also offer (usually on the top floor) movie theaters.
Ticket prices depend on the type of theater you choose, on Wednesdays there's a 50% discount, and at the MBK shopping center you can find tickets for 120 THB. But if you decide to see a film in the VIP hall with reclining seats, buffet and popcorn included, the price rises to 500 THB.
Besides cinemas where you can see films in 4D, you can also taste a film inside the ultra-luxurious "Enigma Cinema" for a total of 3.500 THB a couple , where you're served dinner by an honest-to-goodness butler.
Temples and cultural visits
Something you'll want to do when you first get to Bangkok, is to visit various Buddhist temples situated in the ancient part of the capital. The cost for these cultural places is rather low; 100 THB to visit the reclining Buddha and 500 THB to visit the royal palace.
Some temples are actually completely free, such as the Gold Mountain, a temple where you can admire Bangkok from above in all its splendor.
Dispelling the myth…
In conclusion, we can certainly dispel the myth that you can live in Thailand for 300 USD a month; a possible option for a Thai, but definitely not for a foreigner.
A minimum budget to have when you leave your country to live in Thailand will be between 800 – 1,000 USD a month.
This figure is for a single person's lifestyle who works and has a more or less "normal" life; but if you're thinking about traveling intensively or living in luxury, your budget will go up as well!
[Photo Credits (Creative Commons License): www.flickr.com/photos/torbus/]