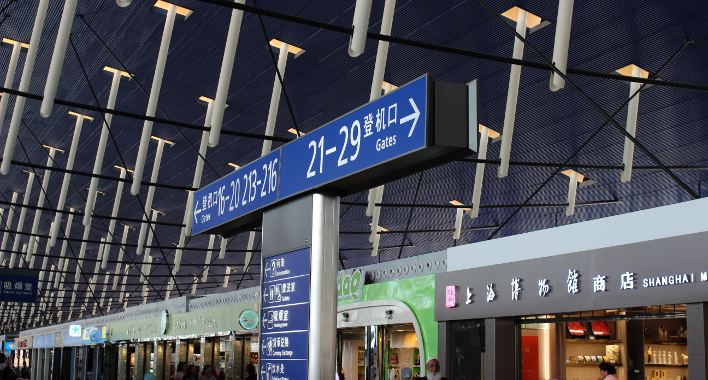 The International Terminal of Pudong Airport, Shanghai
Yup, I left China. I have no strong reasons to justify my choice beside the fact that everything was becoming too difficult: the cons of living in China had slowly overcame the pros.
So I packed the few things I own and I moved to Thailand before the winter begins in Shanghai. Even if I think I did the right choice, today I want to talk about what I'll miss the most about the Middle Kindgom. Cause there are a ton of things I'll miss.
First of all, I'll miss Mandarin.
People say it's a difficult language. And I won't deny it. However, Mandarin has an internal logic that I fails to grasp on any other language I speak (and I speak six languages). And this logic was starting to make sense to me. It's like compose a puzzle. For instance, there isn't a clear word to say "Yes" cause it depends on the context. But when you know the context, you also know whether to expect "shi de," "chi bao le" or the much cuter "en," which I love as much as I love the English expression "whatever."
I'll miss the fact that I can speak Mandarin, that is the local language.
In Thailand I'm yet another farang that doesn't speak Thai and probably will leave soon. But in China I could go to the farmers market and ask for my vegetables in Chinese. Yes, nobody would think "He's one of us," I'm not that naif (not yet). But they would respect the fact that I took the time to learn their language. And that I would buy my stuff at the local market instead of going to City Shop or Carrefour, as many white devil do.
I'll miss Shanghai with all my hearth.
I'll miss the bars in Hengshan Road and the restaurants in Julu Road, especially the Nepalese. I'll miss the girls that I never failed to find on the (in)famous Yongfu Road and I'll miss the Xinjianese immigrant that, even if I told them 23343432 times I don't take drugs, would keep asking me for buying "Marijuana? Hashish? Coke?" anytime I would cross the corner between Changle Road and Fumin Road. And I used to cross that corner quite often.
I won't miss fucken Xin Tian Di.
I must say that Chinese food never impressed me too much. But then again, I'm Italian. However there are some dishes I'll miss.
In particular, I'll miss anything that comes from Xinjiang, I'll miss jiaozi (especially the ones that you find at the Shandong restaurant forty meters away from Ba Ba jiuba in Shanghai), I'll miss Lanzhou lamian in all their shapes and flavours and I'll miss Malatang.
Who travels knows that the best memories always come from difficult trips. Let me tell you that crossing Xinjiang by train wasn't the easiest trip I did, especially because I got food poisoned. But hey, these are the story we will tell to our grandchildren, aren't they?
I will miss the mess.
I've never been to India, so I can't claim that China is the most messy country in the world. But it surely belongs to the top three. And, as I noticed in the past, the funny stuff is that this mess is only real but, at the same time, is just apparent. Why I say that? Cause at the end things always work. Even if almost never in the way you thought they would work. This is China, don't ask yourself too many questions and you'll be happier.
I'll miss my girl.
I don't think I've already realized how much I'll miss her. What can I say? At the end of the day I'm a romantic. She isn't the typical Chinese. Well, technically speaking she isn't even Chinese, she's Shanghainese. See, she was different from most of other Chinese girls I had. She never asked me to marry her. Hell, she never asked me to commit at all. And maybe it's for this reason that I'll miss her so much. Or maybe the reason is another. Who can't tell it? Certainly I can't.
So what's up now with this site?
I don't think things will change. First of all, you may have already notice that I'm not writing here alone anymore. Sborto, which started out writing only on the Spanish version of this site, is now also writing in English. And he's still based in Beijing.
Also, the fact I left China doesn't mean I don't know what to write about China. I have ideas and stories for at least 100 new articles that, considering the fact we usually publish an article per week, makes two years of publications.
And last but not least, I'm not leaving China forever. I may not come back to live to Mainland anymore, but who knows? For sure I'll come back as a tourist cause there are still many places I want to visit. But I'm certainly not ready to leave Asia. Maybe I'll move soon to Taipei, or to Hong Kong if businesses take off the way I wish.
Are you still in China? What you keep you there?
Related Articles:
Sign up to get our free e-books ; )
Sign up to get the "Find a Job and Live in China e-Book" and the "Chinese/English Travel Phrasebook." Your email address will never be shared.
Enjoy this post? Please share a bit of love...