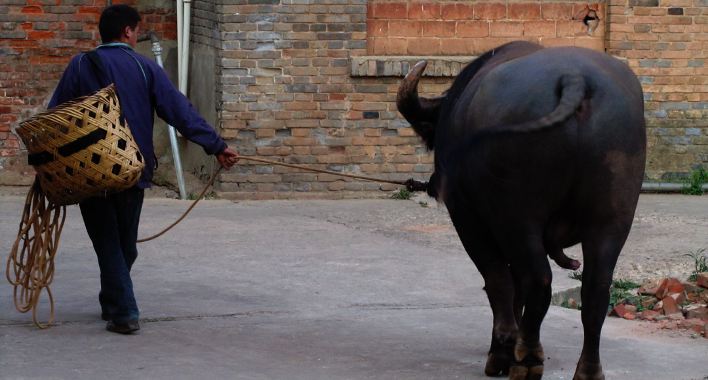 This is the first chapter of my travel through South West China.
Yunnan is one of most touristic Chinese provinces, especially in summer when everywhere else in China is damn hot. This means that an army of Chinese people had our same idea: visit 石林 (shilin), the Stone Forest. The etymology of the character "林" is one of those that remind me why I like Chinese:
木=mu=tree; 木+木=林=lin= forest. Being we so damn smart – or at least this is what we think – instead of staying in a comfortable hotel in Kunming and arrive to the forest tomorrow morning when the sun is already shining over the stones, we get on the first bus to Shilin and arrive there about seven pm. The first people we meet are a farmer with his steer and an hotel manager that tries to pitch his hotel as the best in Yunnan. We run away and order dinner at the restaurant next door: mushrooms, local cheese (for what I know Yunnan people are the only Chinese that do decent cheese), giant tomatoes and boiled chicken.
I know it looks like the hospital menu, but it's tasty!
Hotel five stars
After dinner we go looking for a bed. There is not too much choice as we only find two hotels. We discard the one owned by the pushy manager and choose the other one, owned by a girl with a nice smile. We pay fifty kuai for a night (about seven euro). It seems we are the only customers tonight.
We enter the room and it's a disaster: there is a blackout so we got no light and the bathroom is so humid that you can see the stalactites At least we got free candles…
We do not complain as it's so romantic: branched candlestick Addams family's style, shiny stalactites, rats on the corridor…
I set the alarm for five am. Feng doesn't seem too keen at waking up so early till when I point out that if we wake up soon enough we can take a lot of pics without any people disturbing us. Deal!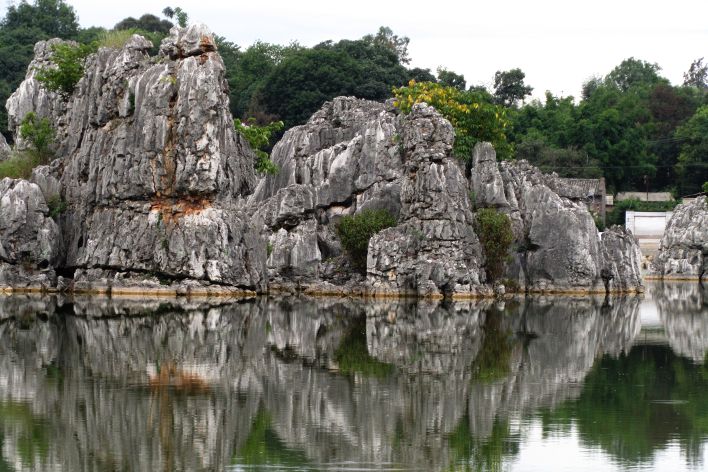 Entering the forest
The morning after we wake up at five and take a shower being careful to do not disturb the bats that are still sleeping on the stalactites. At 5:50 we check out and walk through the 200 meters that separate us from the park… I admit I'm curious about the "Stone Forest", oxymorons never fail to intrigue me.
We pay the 150 kuai at the entry and wake up the guardian (poor, it's not even six am). While he gets our tickets he stares us as to say:
"What the fuck."
As soon as we are in, I'm bit disappointed: there is an hotel and a street larger than a motorway. Not really what I was expecting.
However, the more we enter the forest the more I feel like we are in a magic place and I expect anytime the seven dwarfs to come out from under a stone…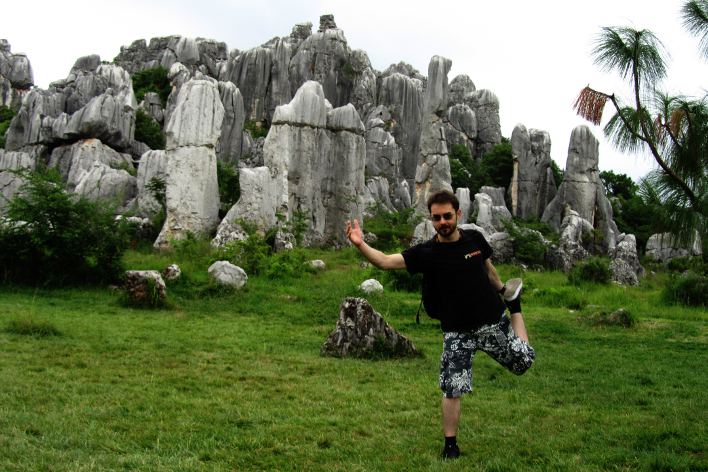 The legend of Ashima
Feng tells me the legend of Ashima, a beautiful girl from Yi ethnic minority. It seems that Azhi, the son of the Shilin village's leader, fell in love with Ashima. She rejected him as she's already has a lover, Ahei. Azhi challenged Ahei in a sing context but he lost and had to set Ashima free.
While she was coming back home, Ashima drown because of a river flood caused by Azhi. This is how Ashima became the most famous stone of Shilin, the Stone Forest. The locals also say that if you call Ashima, she will answer to you (yeah, there is some echo on the forest).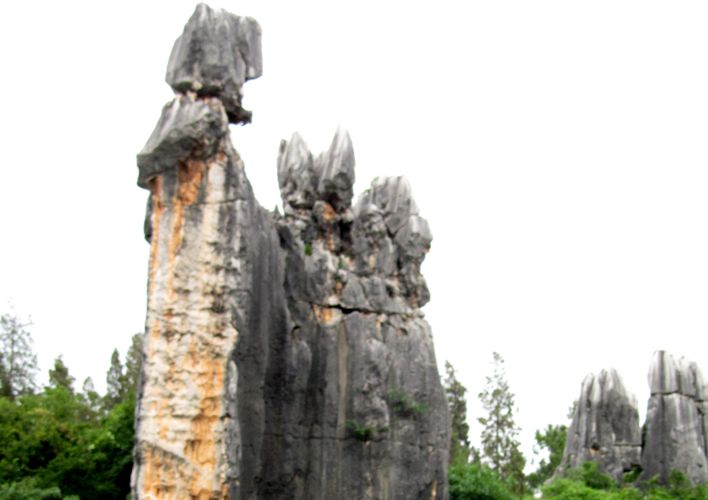 Ashima means "precious and bright like the gold" in the Yi language (Chinese never skimp on praises). The tourist guides swear that the stone looks like a girl of the Yi minority and let you notice the kerchief on her head and the basket on her shoulders…
Coming back to our trip, we were maybe smart to wake up early and so on, but no while choosing our itinerary as we kept the "local star" Ashima for the end of our tour, that is at 10 am when thousands of tourists were flowing inside the park. We had to push through the crowd that was screaming "Ashima! Ashima!" for hearing her voice, that is the echo…
Feng couldn't resist and paid 20 kuai to get dressed as Ashima and take a pic in front of the stone.
After the picture we run back to Kunming and then to Dali as I was afraid the Chinese could think I'm Azhi and beat me (joking, Chinese people are peaceful!).
Related Articles:
Sign up to get our free e-books ; )
Sign up to get the "Find a Job and Live in China e-Book" and the "Chinese/English Travel Phrasebook." Your email address will never be shared.
Enjoy this post? Please share a bit of love...