Pierre and Yun Yun will get married the first January in South China. Hence, we decide to have a non conventional New Year's Eve: a party on the night train Shanghai-Guangzhou.
Despite Michela's repeated efforts to organize the "party", the only people that overcome laziness and join for this adventure are me and Feng, my girl.
The train leaves at six p.m. and, in the most classical Italian style, at four p.m. we haven't decided yet what to buy. Moreover, Michela is closed in her house to finish an elusive work project. Then I find myself lost on Jing An Temple subway station, wisely assisted by Feng.
Our twisted minds conceive the following shopping list for the night: two bottles of Argentinian Malbec (180 kuai, that is about 20 euro), 300 grams of Leerdammer (50 kuai), yogurt (7 kuai), a bag of imported biscuits (40 kuai, a robbery), five giant oranges (10 kuai, great deal!), two cheesecakes and three slices of tiramisù (the last fresh cakes in the shelves… it's New Year's Eve).
After a crazy run through Changde street, we meet up with Michela and arrive at the train station twenty minutes before the departure. This is a great news as we have the opportunity to complete New Year's Eve dinner with pistachios and other similar junk.
As soon as we get on the train, we understand Chinese people are not really thinking about have a party. We share the compartment with a girl that is already sleeping even if the train is still at the station (WTF?), a brave heart that will swallow down three BigMac before to fall asleep, and a compulsive employee that will spend all night working at his laptop.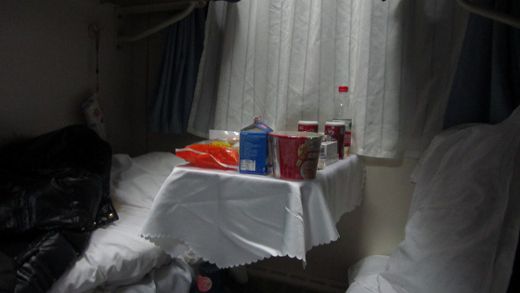 A view of our compartment.
Our elegant reaction consists on sitting on the floor drinking Malbec, tasting cheese and taking silly pics of ourselves (yep, we are becoming Chinese… excluding Feng, who IS already Chinese). The highlights of the night include a girl that sells us a shiny ball (the ones with snowy landscapes inside… whatever) and the midnight spent in the intersection between two carriages drinking beer (the Malbec was gone…) with a chubby ticket inspector who will try try to seduce Michela.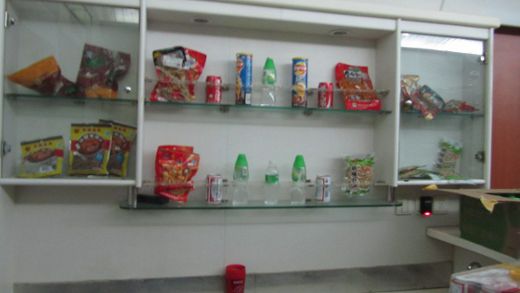 The train bar… quelle tristesse!
We arrive at Guangzhou at eleven a.m. and discover we need to wait the father of Yun Yun (the bride) to check in. Not a big deal, as he's the one paying for the rooms : – )
After a quick shower and a lunch with fake marrowbones, we let Michela at her afternoon incursions and dedicate ourselves to exploring the streets near the hotel. We discover a restaurant where you can taste the (in)famous Guangdong's cockroaches – they keep them alive in a tank – and, for Feng's joy, a shop "everything one dollar". It's a this point that I remember I didn't buy yet my ticket to Shanghai…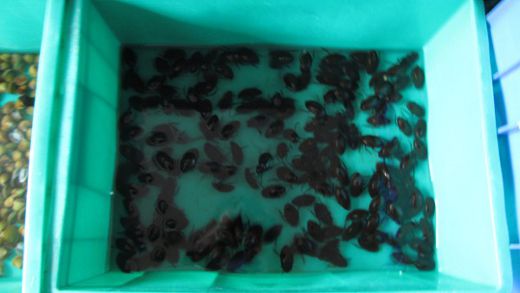 Guangdong's cockroaches.
We go back to the hotel to solve the problem, but [Read more...]
Related Posts: