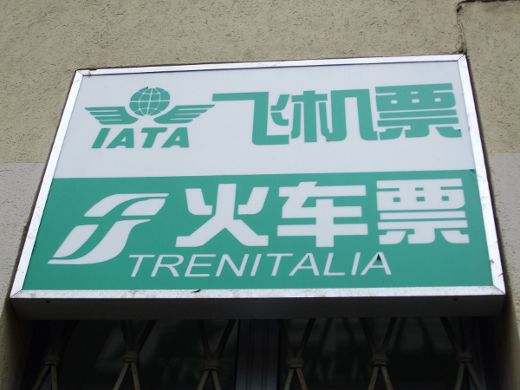 Train ticket office at Milan's China town. 火车票 (huǒ​chēpiào) means "train ticket", where 火 means "fire" and 车 means "vehicle". Hence, 火车 literally means "vehicle of fire," that is "train".
Maybe it is because of its special glamor. Or because since the economic crisis began it became quite fashion.
"Ahhh the crisis, used to say my grand mother…"
No matter the reason, every time I come back to Italy I receive a ton of questions about China. Last time even my primary school teacher, who didn't talk with me since ages, came to say me hello:
"How do they cook the dogs?"
"We can see the Great Wall from the moon, right?"
"Is it true that in China the water is so polluted that your skin will peel off, if you take a shower every day?"
It's time to debunk some urban legends about China…
It's true that Chinese restaurants give you dog meat without your knowledge?
Dog meat is really expensive. The cheapest – and then the most popular – are chicken and pig meats. Hence, the worst case is to receive chicken meat while you ordered dog, not the other way around.
Is the great wall the only man-made object we can see from the moon?
The great wall (长城, "long fortress" in Mandarin) is long 8,851 kilometers but large only 9 meters at most. And it has the same color of the ground: it's impossible to see it from the moon.
Is it true that in China the water is so polluted that your skin will peel off, if you take a shower every day?
The water is surely polluted, but after two years in China my skin is still there…
Chinese children you see abroad are the sons of the couples that exceed the amount allowed by the government. They have been adopted by sterile couples before the government kill them.
I met several pregnant Chinese girls in Milan. Or they all go out with pillow tied on the stomach? In China, if you have too many children you get a fine, they don't get killed as you hear sometimes. Moreover, the inhabitants of rural zones and ethnic minorities can have a second child if the first one was a girl.
When a Chinese person dies abroad, the body is hidden and his document reused to allow another Chinese to come to Italy and take his place illegally. The meat of dead people is served at the restaurant.
Chinese people prefer to die in China. Therefore, when they reach a given age or are seriously sick, they come back to their home country. Moreover, they prefer cremation and also in China is rare to see a cemetery.
If you go alone to a Chinese shopping mall you risk to finish in a box, naked and shaved, victim of the international organs traffic.
This legend afflicts every foreign community just established in Italy.
If you eat often in a Chinese restaurant you will feel sick because of mono sodium glutamate.
The mono sodium glutamate is often used also in western countries to enhance the savor of soups, meat, fish and so on. It's true that sometimes Chinese people exaggerate with it, but it's not exactly strychnine…
It's impossible to be fluent in Mandarin and actually Chinese people talk at frequency other human beings cannot even heard.
That's obviously a bullshit. You can learn Mandarin ; – )
Related Posts:
Subscribe via email, it's free ; )
Receive an update straight to your inbox every time I publish a new article. Your email address will never be shared
Enjoy this post? Please share a bit of love...