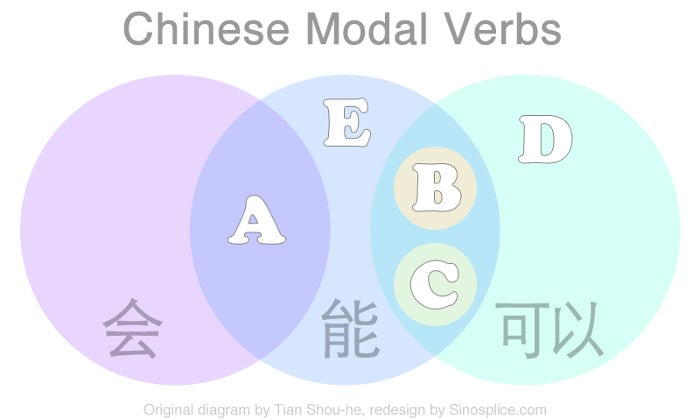 The Chinese language has a vast gamut of auxiliary modals and it isn't at all rare to find characters that can be translated in the same way but possess shades of meaning and context and slightly different ways of use.
To fully master the Chinese language it is good to examine it in detail, even if at times, when speaking about a language, it's best not to think about things too much and let the words flow freely from our mouth.
The possibilities
Auxiliary modals, placed to the left of the verb, modify the meaning. Auxiliary modals are characters that express: to be able to, to want, to have intentions to, to have to, to need.
会 (huì) "to be able to"
It expresses the possibility that something will take place; it also expresses a capacity or acquired ability (something that you know how to do or learned to do). To conclude, it can serve as an indicator of the future.
明天会下雨。
Míngtiān huì xià yǔ.
Tomorrow it could rain / tomorrow it will rain. [Read more…]