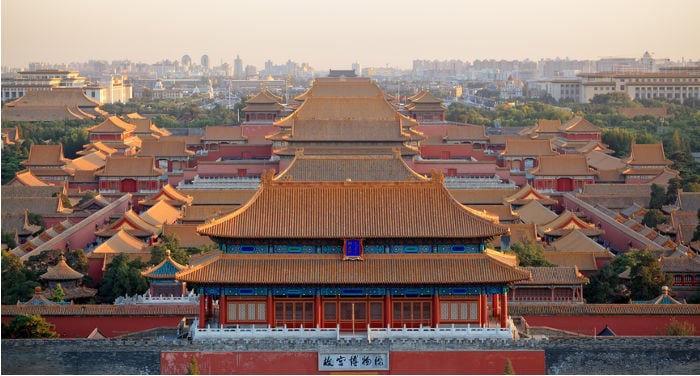 View of the Forbidden City from the Coil Hill
The first time I came to China, I only had one week. I had never left Europe before and I could barely speak English. So, I contacted a travel agency and took a tour. If you are looking for general information about China tours, click here (you'll learn how to spot an honest travel agency, what you need to come to China and much more). In this article you'll find out:
When to take a tour to visit Beijing (and and when not to).
How many days you need to visit Beijing.
The best time period to visit Beijing.
The most popular tours that include Beijing.
Things to see and do in Beijing.
If you've already decided to book a China tour but aren't sure what travel agency to choose, we can suggest a reliable agency to you. Click here to contact us and we'll get back to you as soon as possible.
In which cases you shall or shall not take a tour to Beijing
If you already live in China, I suggest you visit Beijing by yourself. Nowadays, you can reach the capital of China by train or plane from pretty much any Chinese city. Also, Beijing is quite safe and public transportation is good, so you shouldn't have any particular issues. If you need some tips on booking a hotel or hostel in China, just click here.
Also, if you're an experienced traveler and have more time than money, you can certainly come to China alone (unless you're heading to Tibet, in that case you need a travel permit that only a licensed travel agency can provide).
So, when should you think about booking a tour of Beijing
If you, like me in 2008, have never traveled to China and have more money than time, then booking a tour is your best bet: Beijing is a huge city and it's extremely decentralized. This means that moving from one attraction (let's say the Summer Palace) to another (let's say the Forbidden City or the the Temple of Heaven) may take you hours if you don't know how to move around.
However, if you join a tour, especially a private tour as I did, you'll be able to visit up to three attractions per day and you'll be able to see all the best spots in Beijing (see the last part of this article for the details) within four to five days.
How many days do you need to visit Beijing?
As I just said, if you join a four to five day tour, it should be enough to visit all the most popular attractions in Beijing. You may also want to delay your return flight a day or two in order to get lost in town by yourself. It's a wonderful experience, especially if you have never traveled in China.
What is the best time to visit Beijing?
You can visit Beijing at any time of the year (I went there in late January the first time). However, I'd say that September-October is the best season, as it will be around 25º Celsius and there will be a good number of sunny days. The winter is dry and cold, really cold. Summer is way too hot and it rains a lot. Spring is OK but you'll have to deal with the rain and the sand storms that hit the capital quite frequently.
Which are the most popular tours that include Beijing?
If you're coming from far away, let's say the U.S. or Europe, then it's a pity to only visit Beijing. The most popular tours that depart from Beijing but allow you to also visit other Chinese cities/provinces are the Beijing-Xi'An-Shanghai Tour (8-10 days) and the Beijing-Xi'An-Guilin-Shanghai Tour (12-14 days). Some people prefer to take a cruise on the Yangtze river instead of visiting Guilin.
Click here to find out your best options for a group tour!
Things to do and see in Beijing
There are endless places to visit in Beijing. Here, I'm only going to list the most famous attractions, that's to say, the ones that you can reasonably visit in five to six days with a tour and seven to nine days if you're traveling by yourself. Let's get started!
The Forbidden City: This old imperial Chinese palace is situated exactly in the center of Beijing. It was built around 600 years ago and nowadays has been transformed into a museum of 980 buildings, many of which are open to tourists.
Tian An Men Square: A huge square situated just in front of the Forbidden City, which is especially famous in the West because of the riots of 1992. It hosts the Monument to the People's Heroes, the Ten Great Buildings, the National Museum of China, Mao Zedong's Mausoleum and the National Grand Theater.
The Coal Hill: Situated just behind the Forbidden City, Coal Hill is the best spot to take a picture of the Forbidden City, as from here you can enjoy the view of the whole imperial palace.
The Great Wall of China: Visiting the Great Wall was the main reason for which I decided to come to Beijing in 2008. Since then, I have gone back several times to the wall, always to a different section. Here you can find a short review of the 14 most popular sections of the wall.
The Ming Dynasty Tombs: These tombs were built during the same years as the Forbidden City (around 1400) and are located about forty kilometers north of Beijing. Depending on the Great Wall section that you visit, you can visit both the tombs and the wall on the same day (this is what I did when I visited the Mutianyu Great Wall).
The Summer Palace: Located in the Haidian district in northwest Beijing, the Summer Palace is the most famous imperial garden of Beijing. The buildings that make up the palace are situated on Longevity Hill, which faces Kunming Lake. This is definitely my favorite place in China among all the royal palaces and temples I visited.
The Temple of Heaven: Situated in the southeastern part of Beijing, the Temple of Heaven is a Taoist temple that was build at the same time as the Forbidden City and the Ming Tombs. What I liked most about it was its architecture, which is completely different from the majority of temples (and buildings in general) that you find in Beijing. Also, the park around the palace is awesome and you'll find a lot of people – mostly elders – dancing or practicing tai chi.
The Hutong: "Hutong" is a general name that refers to the small alleys that separate the traditional residential courtyards in Northern China. In the past, all the city center of Beijing – that's to say, all the neighborhoods inside the second ring – was filled with hutong, whereas nowadays, very few of them are still there, as they have been replaced by modern buildings. So, hurry up if you want to have a chance to see them!
The Buddhist Lama Temple and the Confucius Temple: Both temples are located in the northeastern corner of downtown Beijing. As I visited them on the same day, I was really interested in noticing the differences between the two temples, which belong to two different religions (well, actually Confucianism is a philosophy, not a religion, but when I visited the temples I didn't know that yet!).
Liu Li Chang (the Street of the Antiquarians): This pedestrian alley located in the southern part of the city is packed with hundreds of small antique shops. Sure, nowadays it's quite touristy but I still love it.
Wang Fu Jing or Xidan Square: These are probably the two biggest shopping areas in Beijing's downtown. I'm not a big fan of either of them but it's nonetheless interesting to visit at least one of them to see the consumerist side of China.
I could keep going on forever: Beihai Park, Houhai Lake, Xi Lake, the Bell Tower, Beijing University's campus, Wu Dao Kou and San Li Tun (for the nightlife), the Ya Shou in San Li Tun or the Silk Market in Guo Mao (if you fancy fake clothes), the Olympic Stadium, The Opera, Gulou, Dong Zhi Men, the zoo, the traditional theater, the KTV (Chinese karaoke; trust me, this is different from what you see back home), and so on.
Are you looking for a travel agency?
If you've already decided to book a China tour but you aren't sure what travel agency to choose, we can suggest a reliable agency to you. Just contact us using the form below:
p.s. Notice that we receive hundreds of emails every day and, sometimes, we can't reply fast. At the same time, we assume that you want to get this info ASAP, so we'll also forward your message to the agency we recommend. In this way they can get in touch with you much faster!
[Cover Photo's Copyright: Depositphotos.com]